Wes Mason and Arthur Metcalfe started building MKM frames in Harrogate in 1972. Wes and Arthur had ridden together in the Carlton team from 1968. Wes won the Gold Medal in the 1962 Commonwealth Games and the Star Trophy in the same year and Arthur had ridden in two Tours de France and had the unique distinction of winning both the RTTC Best All Rounder Competition and the Professional Road Race Championship in the same year – 1966. Thus they had the ideal palmares to attract orders from British clubmen, both road racers and time triallists.
It was originally intended that Ron Kitching would be involved in the company but, having seen how much it was costing to set up, he took no active part in the company other than as landlord of the Chapel Works, on Skipton Road, Harrogate, which was to be the base of the company until 1980.
An attempt was made to revise the name of the company but this proved too costly and so the three initials remained but not before a quantity of revised head tube crest badges and transfers were ordered with MM replacing MKM.
Initially business must have been good because regular collections of tubing were made from the Reynolds factory in Birmingham, often two consignments of fifty sets each week.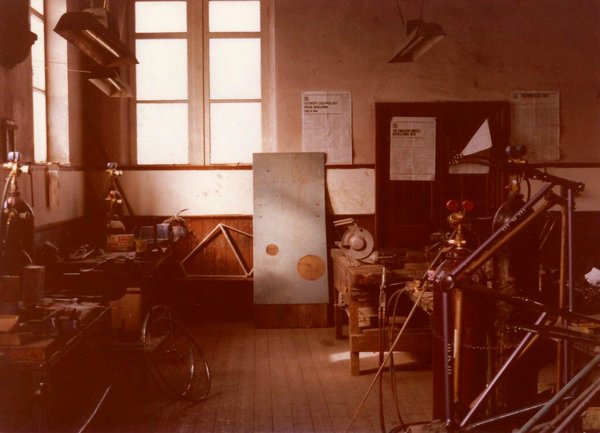 The MKM Workshop, Harrogate
As well as building frame sets for both direct orders from clubmen and for orders from UK cycle shops, MKM always supplemented their order book by building frames for the US, some of which went out as MKM and some of which went out unbranded for the dealer to put on their own transfers (Alpine Distributors of Colorado and Georgetown Cycle Sport of Washington DC) for example. Also they would sub contract to the UK cycle trade. It is also assumed that they built the Ron Kitching frames which appeared so prominently on the back page of International Cycle Sport. (The late 1960s Jaques Anquetil frames advervised as "specially threaded to british standards" were manufactured in France by Andre Bertin as were some of the early Ron Kitching frames).
Wes Mason had originally been apprenticed as a toolmaker in Sheffield and so he look charge of manufacturing whilst Arthur, whose skills were more administrative, took over sales and marketing
As, to start with, there were no finishing facilities at Harrogate, spraying was done by both Ellis Briggs at Shipley, who introduced a special range of the polychromatic colours which were a feature of MKMs, and C & G Finishers of Liverpool. Arthur would take bulk lots of frames to Liverpool for finishing, preferring this journey into foreign territory to the quick trip to Shipley.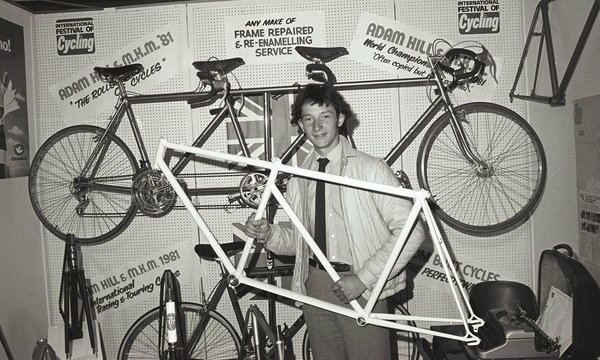 In 1973 Steve Elsworth joined the company from school and was eventually to work for all three owners of the company during the Chapel Works years.
In 1974, spray booths and equipment were bought to enable in-house finishing to be carried out and Ian White, the noted time triallist joined, as also did Bernard Macklam. (See Cycling Nov 15th 1975 for review of Ian's 10 mile record breaking bike)
During this period frames were built in a mass production style with one builder concentrating on one bit of each frame, Bernard Macklam having joined because of his skills in building rear triangles. It is rumoured that Wes was given training in frame building by Norris Lockley at Leeds College.
The early 1970s range comprised seven models – The Magnificent Seven – trading on the two principal's successes:
Arthur Metcalfe – Tour de France and BAR

Wes Mason – Gold Medal and Professional

MKM – Dominator, Ace and Track
In reality the Arthur Metcalfe and Wes Mason frames were identical apart from the transfers and, for direct orders from riders, any combination of design and lugs could be produced.
During these early years Steve Elsworth was increasing his range of skills and he became adept at producing lugless, fillet brazed, frames and so a lugless time trial frame was added to the range.
Unfortunately the business was not making the fortunes that Wes and Arthur had hoped and Arthur was talking about emigrating to South Africa and a buyer was sought,. In the event it was Wes who left the business which was bought by Dick Pumphrey in 1976 with Arthur staying on to help the new owner. Wes set up on his own at Coldbath Road in Harrogate building the Wes Mason range.
Arthur only stayed on for a short time and then started his own second hand car business. Dick Pumphrey also only owned the business for a short while as in 1978 the Crabtree family, who were looking for investment opportunities, took over the business with Ian Crabtree taking on the day to day running.
This was a period of change as the company became known as MKM Cycles and seat tube eyes and fork crowns were bought in from Andrew Hague and engraved by Jespers, a local jeweler. There were no more Mason or Metcalfe frames and a top of the range Omega brand was briefly introduced.
Because of the number of frames sold to British time triallists and because of the fashionable trend for short wheelbases, Ian Crabtree wanted to produce a specialised frame and, after some prototypes were built, Steve Elsworth produced the first Ultimate time trial frame which was to become the flagship frame for the rest of the 1970s.
During the Crabtree ownership there were ten employees including three framebuilders with an estimated weekly output of ten or so frames a week. Because Ian Crabtree did not live locally to Harrogate, he was not on site every day and, possibly, controls became slacker than they should have been and quality suffered. The general climate was not good for lightweight frame building and, in 1980, the business was put up for sale.
Eventually, as no buyer could be found, MKM Cycles ceased trading at Christmas 1980 and the workforce were paid off. At this time Ron Kitching changed the locks on Chapel Works and claimed ownership of the remaining work in progress and components and all the equipment. Whether the Crabtrees owed back rent or whether Ron did this because there was nobody to stop him is not known.
Steve Elsworth took the closure as an opportunity to set up on his own account at Thorpe Arch Trading Estate at Wetherby producing Omega and Elsworth frames and further developing the Ultimate. These frames were often purchased by well known time triallists and are now much sought after.
In 1979 Adam and Dennis Hill had been persuaded to re-start the Hill Special framebuilding business with new partners in Blackpool, but Adam's involvement was very short lived and he was looking for an opportunity to build frames in his own name. Knowing that Ron had a complete framebuilding business locked away at Harrogate a deal was soon struck and the business moved from Yorkshire to Lancashire to new premises at Rishton.
Adam tried to get some of the Harrogate staff to work at Rishton but only two joined him and in 1981 Adam had a stand at Ron Kitching's International Festival of Cycling displaying frames branded as both Adam Hill and MKM.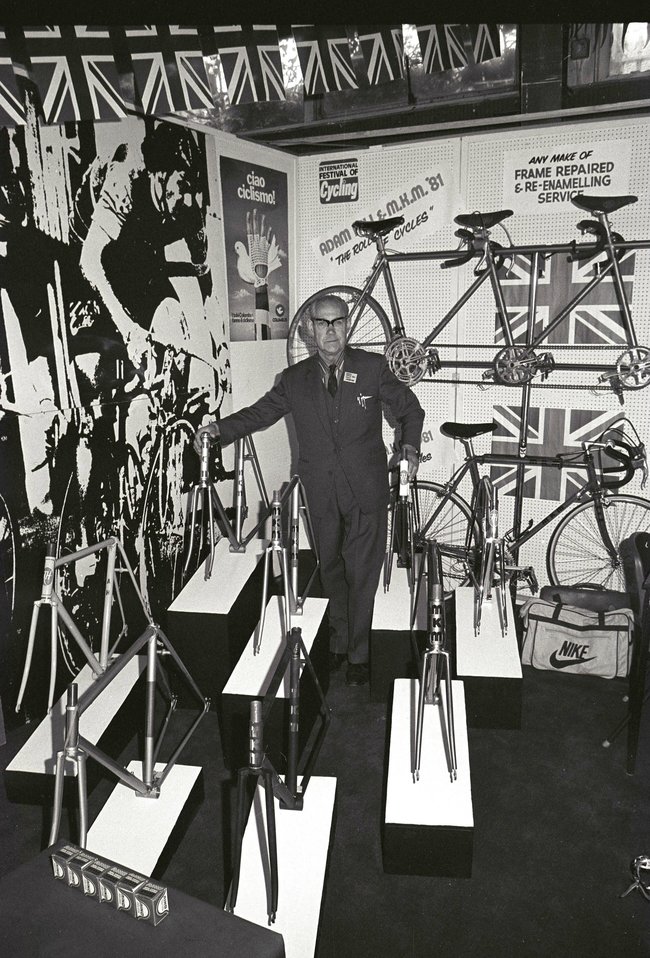 Adam Hill, International Festival Of Cycling 1981.
Adam's health was failing and the Rishton based business never built in any volume and, after persuasion from his daughter, the business was sold once more, this time to an enthusiast in Liverpool who continued to build MKM frames in very small volumes for a further ten years.
Sadly Arthur Metcalfe, Ron Kitching and Ian Crabtree had all died before I started this brief history, however I am indebted to Steve Elsworth who checked an early version of the history and showed me his album of weird and wonderful 1980s time trial frames, Trevor Humbey who worked with Steve and who sent me lots of photos of staff and premises at both Harrogate and Rishton, and Graham Crabtree, Ian's son, who drove over to show me a car full of original MKMs. Much of the above is based on the various individuals' recollections and, although I have tried to include only corroborated facts, this brief history will include errors which need correction. Anyone who can add extra detail or correct mistakes should contact me and I will revise this story of MKM.
Wes Mason has expressed surprise that anyone should be interested in the story of this relatively short lived cycle company but there is a real interest in both the US and the UK in being able to identify and date MKM frames. If anyone can provide a frame number and a date of original purchase I can start getting a feel of which frame numbers were built when.
Have a story to share?
If you can help improve our history section, or have an MKM tale of your own - we would love to hear it! Simply fill in the form below and we will be in touch.